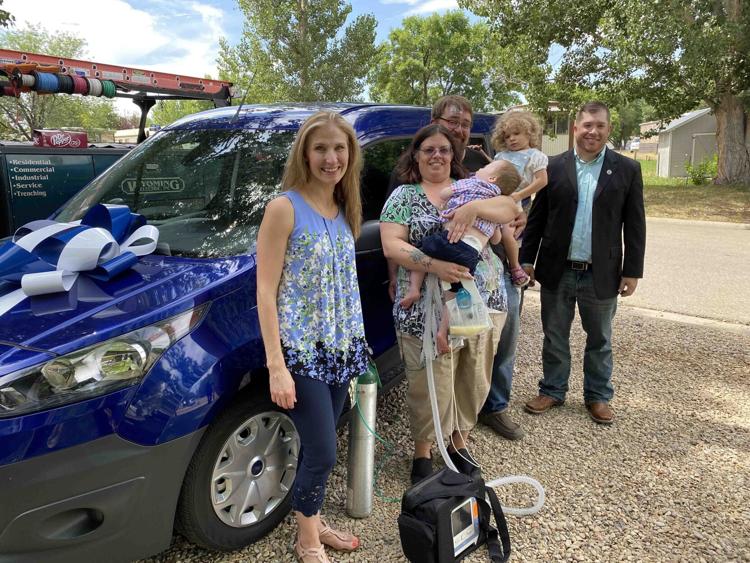 After family's handicap-accessible van stolen, angels arrive with a gift.
While in Denver so their 2-year-old special-needs son could get medical treatment, a Wyoming family had their handicap-accessible van stolen, which left them stranded. Hearing the news, a group of Wyoming angels intervened to help.
Now, thanks to Cowboy Skill Games of Wyoming, the Fischer family has a replacement vehicle. Representatives of Cowboy Skill Games, which is an organization of amusement and coin-op vending companies in Wyoming, recently presented the vehicle to Ira and Yvonne Fischer at their house in Sheridan.
Leslie George was heartbroken when she heard about the plight of the Fischer family, who'd been left stranded in Denver. So, the co-owner of Wyoming Amusement in Sheridan said she immediately called her colleagues at Cowboy Skill Games, to raise money to buy a replacement vehicle.
"We just had to step up and do something for this dear family," George said. "But that's what we do in Wyoming. We help each other."
The Fischer's two-year-old son, Lane, has Down syndrome and requires surgeries and other medical treatment frequently in Denver.
Yvonne Fischer was stunned when George called and told him about the gift.
"I couldn't believe it. Thank you Cowboy Skill Games," Fischer said. "We had lost a lot of hope when our van was stolen. Leslie and the families of Cowboy Skill Games have restored our faith in humanity."
Cowboy Skill Games of Wyoming is a group of Wyoming-based amusement and coin-op vending companies who offer legal skill games to restaurants and bars across the state.
Through the help of the AutoFarm Castle Rock car dealership in Evanston, Wyoming, George found an already-upgraded handicap accessible van in Indianapolis.
Folks from another Wyoming car dealership, Midway Auto & RV – Worland, volunteered to go to Indiana to drive the van back to Wyoming. And folks from yet another Wyoming car dealership, Fremont Motors in Sheridan, then offered to pay for a year's worth of Fremont Care service maintenance for the family's new vehicle.
George said the gift to the Fischer family is emblematic of what the companies of Cowboy Skill Games do.
"We're a tight group of Wyoming families who have been here for a long, long time," George said. "We love Wyoming and our Wyoming people."