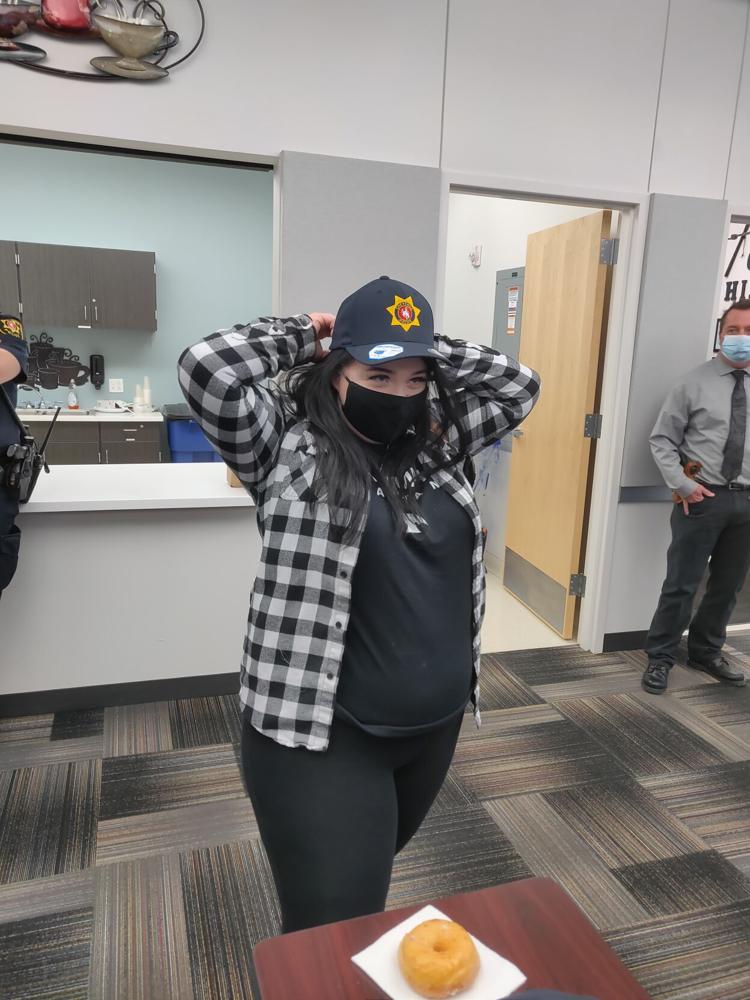 Cheyenne Police Chief Brian Kozak stepped down last Friday, for one day. He was replaced by Triumph High School Junior Jadera Mallo, who'd won an essay contest of Faith in Blue, a national organization bringing police and faith communities together. The grand prize winner got to serve as Cheyenne Police Chief for one day. 
"The essay topic was how would you improve or bridge the gap between the community and the police department," said Kozak.
The contest received 35 entries. Essays were judged by a committee made up of local ministers, police resource officers and teachers.
Mallo's essay began with a quote from a Spiderman movie: "With great power comes great responsibility. Oftentimes a city's chief of police struggles to unite themselves in their local community. Through no fault of their own, a police chief can often become consumed with his day-to-day responsibilities at the police department, rather than uniting him or herself with the local community."
"I talked about how we needed to help the homeless people get in a better place in their life. I talked about how we need to focus on the juveniles because they are the future of Cheyenne, and obviously the animals because animals are important to me," Mallo said.
On Friday, Mallo was officially sworn in by Chief Kozak, who then served as her "assistant." Mallo was offered a donut by one of the officers, and given a Cheyenne Police Department hat, t-shirt, and the chief's badge to wear.
She listened to briefings by police officers about locations where there had been a lot of traffic accidents and vehicle break-ins. She was told about a drug bust using a police K-9 that had netted 94 pounds of marijuana. Mallo then attended a briefing for the day shift of police and school resource officers and spoke to them.
One of Mallo's interests was the use of Cheyenne Police Officers to assist animal control. She planned to go to the Cheyenne Animal Shelter and talk with staff about the importance of spaying or neutering pets.
Mallo also was scheduled to go to Triumph High School and talk to students about what the police can do better to relate to youth. She also wanted to tour the juvenile court and observe training of three new police officers.
Mallo said she was thrilled to win the contest. "I was just excited.  This was something big for me," she said. 
Despite winning the contest and serving as chief for a day, Mallo said she is not interested in law enforcement as a career. 
"No, no, no… no offense, guys," she told the police officers at her swearing-in.
The winner of the contest for High School Seniors will serve as police chief tomorrow. 
Kozak said he wants the contest to be held again next year, and may ask for entries on video.