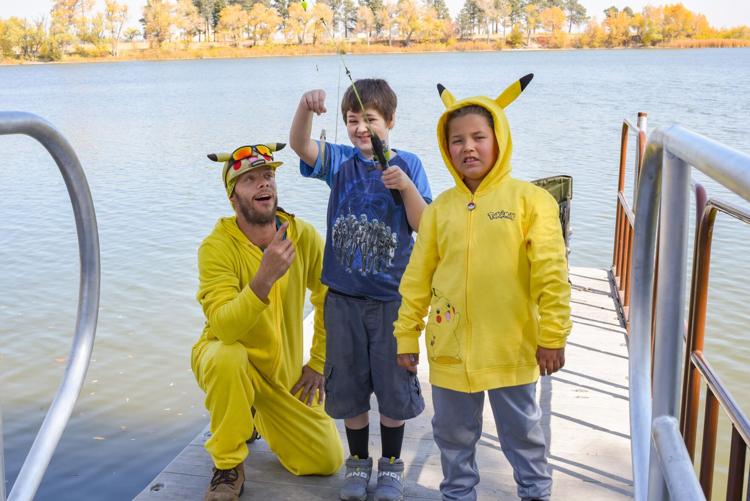 TeachKids2Fish holds weekly or biweekly "Catch N Clean" events at lakes around Cheyenne. Kids of all ages are encouraged to come out, help clean the lake and then learn to fish, with a chance of winning prizes.
It being the spooky month of October, this past Saturday organizers put a different spin on the event with a "Catch N Treat," at Sloan's lake in Lion's park. At the event, kids were able to go trick or treating, collecting candy from anglers later in the evening.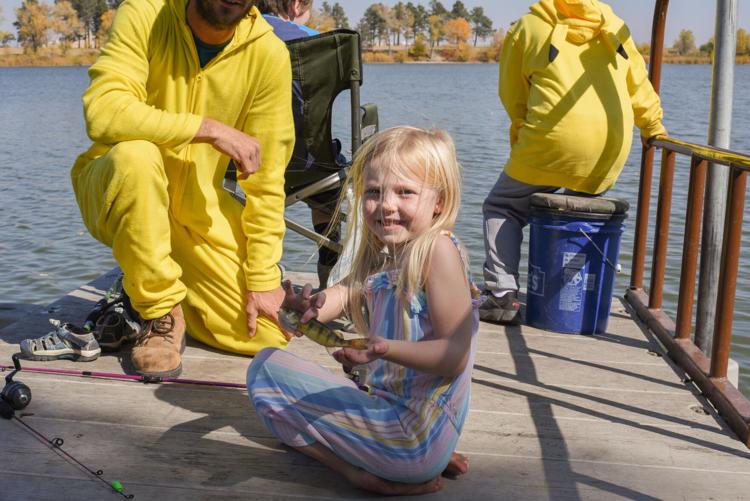 TeachKids2Fish is a nonprofit organization, founded several months ago. It hosts "Catch N Clean" events almost weekly. The events enable kids learn to fish in a fun and relaxed atmosphere, with one requirement: before they can start fishing, youngsters must grab a bucket and gloves and go around the park and pick up at least 10 pieces of trash.
When they get back to event headquarters, they are given one raffle ticket for every 10 pieces of trash they collected. Then comes the fun, as the youngsters each get a fishing pole rigged and ready for fishing. For every fish they catch, they get an additional ticket.
At the end of the day, tickets are drawn, and the prizes are awarded. Prizes usually are fishing rods and reels. The organizers also provide food and drinks.
TeachKids2Fish is the creation of Angel Smith and his girlfriend Shaylyn Smith. Angel does most of the teaching and Shaylyn runs the business and marketing side of the effort.
Angel became an avid fisherman five years ago and two years ago, he started fishing Sloan's lake on a regular basis and would almost always catch trash before catching any fish. Often, the garbage would be plastic bags that would break his poles and strip his reels.
He knew he had to come up with a plan to get the lake cleaned up because so many lakes get shut down due to excessive littering.
This year, Angel set some goals for his fishing passion. He hoped to fish 366 days with 366 different people and to teach 100 kids to fish. 
"Being a people person, I started getting lonely being out there every day, so I started a YouTube channel entitled 'Everyday Pikachu Hat Fisherman,'" Angel said, explaining that he calls himself the Pikachu Hat Fisherman because he was given a Pikachu baseball cap that he wears every day when fishing. "The YouTube channel was not satisfying enough, and I really wanted to find a way to get people involved with cleaning up the park."
He talked with his girlfriend and together they came up with the idea of TeachKids2Fish. The organization is the perfect blend of helping to achieve his goal of getting the lake cleaned up and teaching children responsible outdoorsmanship. 
Children and parents alike love Angel's energy and quirky personality. So many of the kids that end up at the "Catch N Clean" event just happen to be at the park with their families walking around. Everyone is encouraged to grab a pole and start fishing.
"If I could be that cool guy that kids look up to, trying to teach them to fish and to teach the next generation to be conservationists, to pick up after themselves and to make it look better than they arrived, then I truly accomplished something," Angel said. "Teaching a kid to fish teaches them how to survive, to be able to always feed themselves."
He plans to continue into the winter with ice fishing if there is enough interest. The organization is always accepting donations including cash to purchase prizes and gear, food and drinks for the events and even old rods and reels. Angel refurbishes them for the kids that show up without gear to use.
For more info on the effort, visit TeachKids2Fish Facebook page, to find out more about the "Catch N Clean" events, and how to donate or become a volunteer.