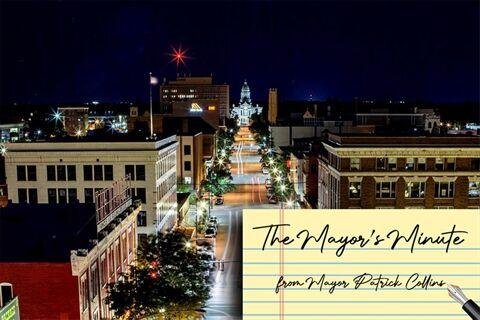 I want to start my Mayor's Minute this week with a heartfelt thank you to all of you. During the rodeos last week, I lost count the number of times I was thanked by visitors to our city for the courtesy and friendliness of the residents here. I received numerous compliments for the condition of our city and the welcoming attitude people received in our shops and restaurants.
Additionally, I had the opportunity to visit with many of the volunteers that make Cheyenne Frontier Days work. I have enjoyed the rodeo for years but did not fully realize the number of hours residents of Cheyenne give to the success of that event. I met people who were volunteering for their first time, friends that volunteer together, and even one group of volunteers that included three generations from the same family. It was amazing to talk with so many people whose focus was on delivering a great rodeo and freely giving their time to make it so! I also want to thank the folks that offered suggestions on things we can do better. My Chief of Staff will be working with our Directors to identify ways in which we can improve our service to our residents, visitors, and businesses.
I participated in my first pancake breakfast on Friday morning as Mayor at the depot plaza.  It was so much fun getting into the big red grill and flipping pancakes to the young ladies who catch them. The Kiwanis Club is a volunteer organization that does so much for our city. I cannot wait until next year to flip more pancakes.
Mayor Greg Mengarelli from Prescott, Arizona stopped by CFD on Friday. Prescott's claim to fame is they host the world's oldest rodeo, 135 years and counting.  It was fun to show off the World's Largest Outdoor Rodeo and Western Celebration.  I want to go to Prescott and see their rodeo. 
Judy and I did the grand entry to the rodeo every day and then I spent time going to the sponsor boxes to thank them for supporting Cheyenne and CFD.  I told them we have the greatest volunteers that make our rodeo go, but without their sponsorships we would not have a rodeo. They are amazing in the support they give every year.
Kane Brown killed it Friday night.  He seemed so grateful to be able to play for a crowd in person.  I really love his song about being a good dad in his song "For My Daughter". He is a young guy that is part of the future of country music.
Saturday was our last parade for this year. We were honored to have Marium, and Claire join us in our carriage.  There was not enough room in their carriage, and it was fun to have a 7- and 10-year-old smiling and waving to the crowds.  I thought the Saturday crowds were fun.
The Blake Shelton concert Saturday night was epic. CFD General Chairman, Jimmy Dean Siler, brought us from our seats to stand next to the stage.  Watching the concert from that vantage point was a cool experience.  The big surprise was when his wife Gwen Stefani came out and sang a couple of songs with him. The crowd went nuts and it was so fun to be part of it. The lineup for Frontier Nights was so much fun this year. I am not much of a night owl anymore, and the late nights -- while worth it -- were hard on my sleep schedule.
I was so proud of Cheyenne Frontier Days on Sunday at the final rodeo. The pomp and ceremony of the rodeo and honoring the winners was great to watch. The heartbreak of getting bucked off or missing a loop was palpable. The joy of the winners was fun to watch and be a part of. I cannot tell you how appreciative Judy and I are of the hospitality from all the volunteers on the park.
Monday morning at 8:00 a.m. found me back at it with a meeting at the Paramount Cafe with Liisa Stark. She is the Assistant Vice President, Public Affairs - Northern Region with Union Pacific Railroad.  We were meeting to talk about projects we are wanting to accomplish that need railroad approvals. The Belvoir Ranch, East Park, and the Roundhouse projects are a couple big ones we have been working on for years. I am appreciative of the opportunity to sell Cheyenne and our vision to all our partners.
We met Monday morning with our police department team to discuss the County Jail.  With Covid, we have had a hard time getting our prisoners booked into the jail.  Covid is a challenge for all of us, and we are working to find a solution that will work for everyone.
The Hitching Post Urban Renewal Plan is working its way through the city processes. It passed the Planning Commission on Monday, and all that is left is for the City Council to vote. We met with one of the property owners in the area on Monday to answer questions on the implications the Urban Renewal Authority (URA) designation will have on her property. We will be following up on Friday to make sure all her questions are answered.
David Janes was promoted to Police Captain on Monday afternoon. His father was the Police Chief in Torrington for 30 years. Public service is in the family and David is no exception. One of the parts of the promotion test is the writing of a paper to solve an issue in Cheyenne. David's paper was on abandoned cars on our streets. I loved his solution, and we will be working to get it implemented.
I met with Fire Chief John Kopper to discuss a grievance coming from the fire union. We hired a fourth battalion chief, and the union has grieved the process. This is the first time a grievance has been appealed to the Mayor's office, and we will be meeting next week to handle it. 
I always talk about celebrating successes in Cheyenne, and Schroll Cabinets is one company we need to celebrate. I met Tyler Schroll who gave me a tour of their facility. I was amazed at the technology used to make cabinets. Everything is computerized and so organized. They have 100 employees making cabinets and are one of the largest manufacturing companies in Laramie County. Great products and an amazing company.
The City's investment committee met on Tuesday afternoon. They meet on a regular basis to make sure the investments are on track to help balance our budget. I appreciate the folks who volunteer to help make sure investments are focused, safe, and making a good return.
Wednesday morning, I had breakfast with Barrett from Balfour Beatty. His company has the contract with the Air Force to build the housing next to the base on the land we currently use for the CFD Park-n-Ride.  With our housing crisis, we need this project to move forward.  I meet with him regularly to push them to get this project started.
We have all heard about the delays plaguing our runway reconstruction project.  First, there was a worldwide shortage of the type of concrete specified by the Federal Aviation Administration (FAA). Then the contractor had to do a new mix design. They have been trying to master the pouring of the new mix. This project is to replace the aged concrete runway, and they will get it done. In the meantime, we will be without air service. 
We met with the County Assessor and Treasurer to discuss the tax increment financing that will come with the Hitching Post URA project.  It is important to make sure all our partners are tracking how to make this work.  I appreciate the Assessor and Treasurer and their willingness to help us make this project happen.
Our question this week comes from Jessica Friis. She writes that as she drives around town, she sees many empty commercial buildings that have sat empty for years. With our current housing shortage, could some of these be made available to residential development?
Jessica, I think this is a good suggestion. We have zoning issues, but the City Council can change zoning to facilitate the conversion to residential uses. We just started our Affordable Housing Task Force and I will send this suggestion to them for consideration.  I appreciate the out-of-the-box thinking.
If you have a question for me, send it to media@cheyennecity.org. I'll continue to answer them in my following Mayor's Minute column.