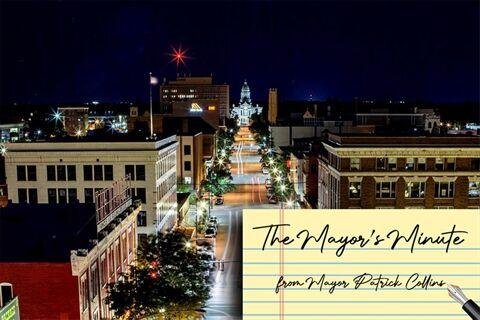 Last Friday I attended the Coronation Ball for Miss Frontier and her Lady-in-Waiting. Bailey Bishop is our Miss Frontier and Savannah Messenger is her Lady-in-Waiting. The highlight of this wonderful evening was the video Savannah put together to honor Bailey. It was funny, emotional, and a blast to watch.  They have traveled all over the country representing Cheyenne and Frontier Days. It was the first time I have ever worn a cowboy hat in public, and I liked it. 
Cheyenne is blessed to have the historic Union Pacific Railroad steam fleet located here. I would love to find a way to give the public a way to view these beautiful steam locomotives. To that end, I took a group of tourism officials and local train buffs to visit our Governor to share an idea that would create a destination tourism railroad asset for Cheyenne. A walkway from the depot to an expanded roundhouse would be the ticket. We are putting together a working group to explore the possibilities.
One big change coming to our city is the addition of electric scooters. We have had a few for the past couple months, but a large national vendor is coming with more than 100 units. We have spent the past couple weeks working on the rules and regulations to make sure we have a smooth introduction. These are available for rent using an app on your phone. They are so popular in other cities; I am sure they will be a hit here. Special thanks to our City Attorney and Metropolitan Planning Organization (MPO) for all the hard work.
We have been meeting with many of the players to try to solve the flooding in the area around the new Thomas Heights subdivision.  I am happy with the support, but so much more work needs to be done to solve the problem. I am committed to fixing the flooding in the area. 
I want to brag about our staff. We had a meeting this week with a couple of departments that did not agree on some payroll procedures. It was so nice to watch them politely talk about their positions and mutually concluded with a plan that worked for both departments. Our staff is amazing!
My friend Colonel Brian Rico retired from the Air Force this week. He was the Maintenance Group Commander for the 90th Missile Wing. He is also the Military Chairman for Cheyenne Frontier Days. His retirement was so emotional with his mom and dad, five kids, and wife in the audience. I love this guy and wish him well in his future endeavors here in Cheyenne. 
I am going to really be out of my element next Monday. I have been asked to MC the melodrama for one performance. I love this goofy play but I am really uncomfortable in this role. They were so nice to show me how it works, now it is time to make the magic happen. I will let you know next week how it went.  Hopefully, the audience will only boo the villain.
I have received a few complaints about the dust coming from our construction of the new landfill cells. I have experienced dust while Menards was being built. The dust made it hard to see across Dell Range Boulevard.  I am empathetic, so I went to the site to look at the situation. They have moved 1.5 million cubic yards of dirt so far with 700,000 more to go. It is an impressive project. Staff will keep an eye on dust control.
I have received many notes from a neighborhood about a new light in the alley. It is so bright it is causing problems at night for living and sleeping. I hate being involved in neighborhood disputes, but I guess it is what we are getting paid for. I hope our planned changes will help resolve the issues.
Thursday morning was the first meeting of our Urban Renewal Authority (URA) board of directors. It is an opportunity to pass by-laws, get oriented, and start the process of creating the Hitching Post plan area. I am so excited to get the contaminated building torn down and to see the new development spring up from the cleaned-up land. The URA five-member board continues the amazing volunteer spirit of our Cheyenne community. Thanks!
I am excited for this next week. My two boys and their girlfriends will be in town for the rodeo. Judy and I love time with the boys and CFD is a great excuse to get together. Rodeos, night shows, pancake breakfasts, parades, and everything else will keep us busy. 
The British Consulate-General from San Francisco stopped by on Thursday afternoon. This is a first for me and I was intrigued to see why they wanted to meet. I really enjoyed Joe White, Mark Bailey, and Andrea Koskey. They were really interested in our efforts to diversify our economy with the technology sector. They were also fascinated by our political process. I look forward to continued conversations.
The CFD Western Art Show and Sale was held Thursday evening. It was so gratifying to be at the Governor's residence and watching the hundreds of people getting together outdoors to enjoy each other and to support the arts. The art continues to amaze me each and every year.  There is so much talent in our area that is highlighted at this show. I really appreciate all the sponsors who make this, and every event happen in Cheyenne. The Old West Museum really is the big beneficiary of the evening.
I would like to welcome our visitors to Cheyenne for the 125th Cheyenne Frontier Days. We have so much for you to do, and I hope you will take time to see it all. I would like to especially thank the thousands of volunteers who make CFD happen. Without you, the World's Largest Outdoor Rodeo and Western Celebration would not happen. We are so proud of our city and are excited you have made the decision to cowboy up for a few days.
If you have a question for me, send it to media@cheyennecity.org. I'll continue to answer them in my following Mayor's Minute column.