Fresh off the wildly popular local re-christening event, and the 150th anniversary celebration of the transcontinental railroad's completion, the Union Pacific's Cheyenne-based Big Boy No. 4014 is now set for another epic journey that is sure to excite railfans across the nation.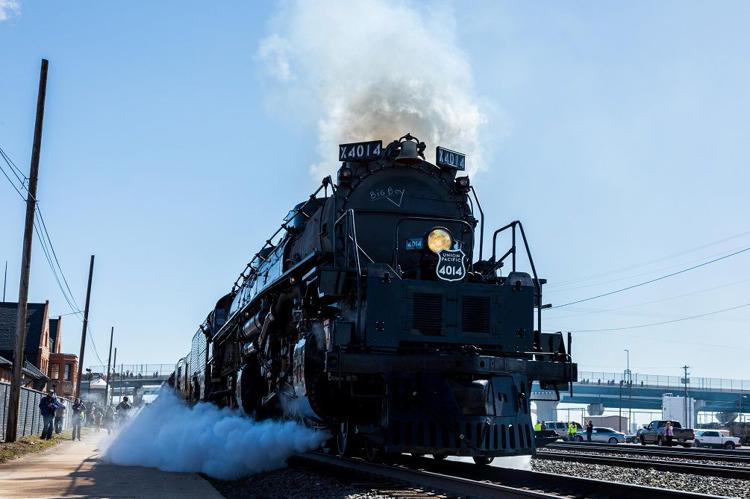 The Union Pacific said they are just gathering steam following its May 9 ceremony in Ogden, Utah, commemorating the anniversary. The newly restored Big Boy No. 4014, the world's largest steam locomotive, is returning to the rails for its own "Great Race across the Midwest."
No. 4014 will leave the Steam Shop in Cheyenne, Wyoming, July 8, making brief whistle-stops in communities along its route through Illinois, Iowa, Minnesota, Nebraska, Wisconsin and Wyoming. It will be on display in the following cities:
July 13-14: Omaha, Neb. (paid admission required through Railroad Days)
July 18: St. Paul, Minn.
July 20: Duluth, Minn.
July 23: Altoona, Wis.
July 27-29: Chicago, Ill.
Aug. 1: Des Moines, Iowa
Aug. 3: Omaha, Neb.
Aug. 6: North Platte, Neb.
Twenty-five Big Boys were built exclusively for Union Pacific, the first of which was delivered in 1941 to handle the steep terrain between Cheyenne and Ogden. Of the eight still in existence, No. 4014 is the world's only operating Big Boy. It recently completed its inaugural tour to Ogden for Union Pacific's 150th anniversary ceremony. The Big Boy and historic steam locomotive Living Legend No. 844 met nose-to-nose, recreating the iconic image taken May 10, 1869, when the last spike was tapped into place at Promontory Summit, creating America's first transcontinental railroad.
"The transcontinental railroad forever changed our country, uniting the nation and igniting economic growth that is still evident today," said Scott Moore, senior vice president – Corporate Relations and chief administrative officer. "There's no bigger way to honor this milestone than bringing the Big Boy back to life and giving people an opportunity to share this historic moment."
The Big Boy was restored and is home-based in Cheyenne. 
The Union Pacific Railroad contributed to this report.