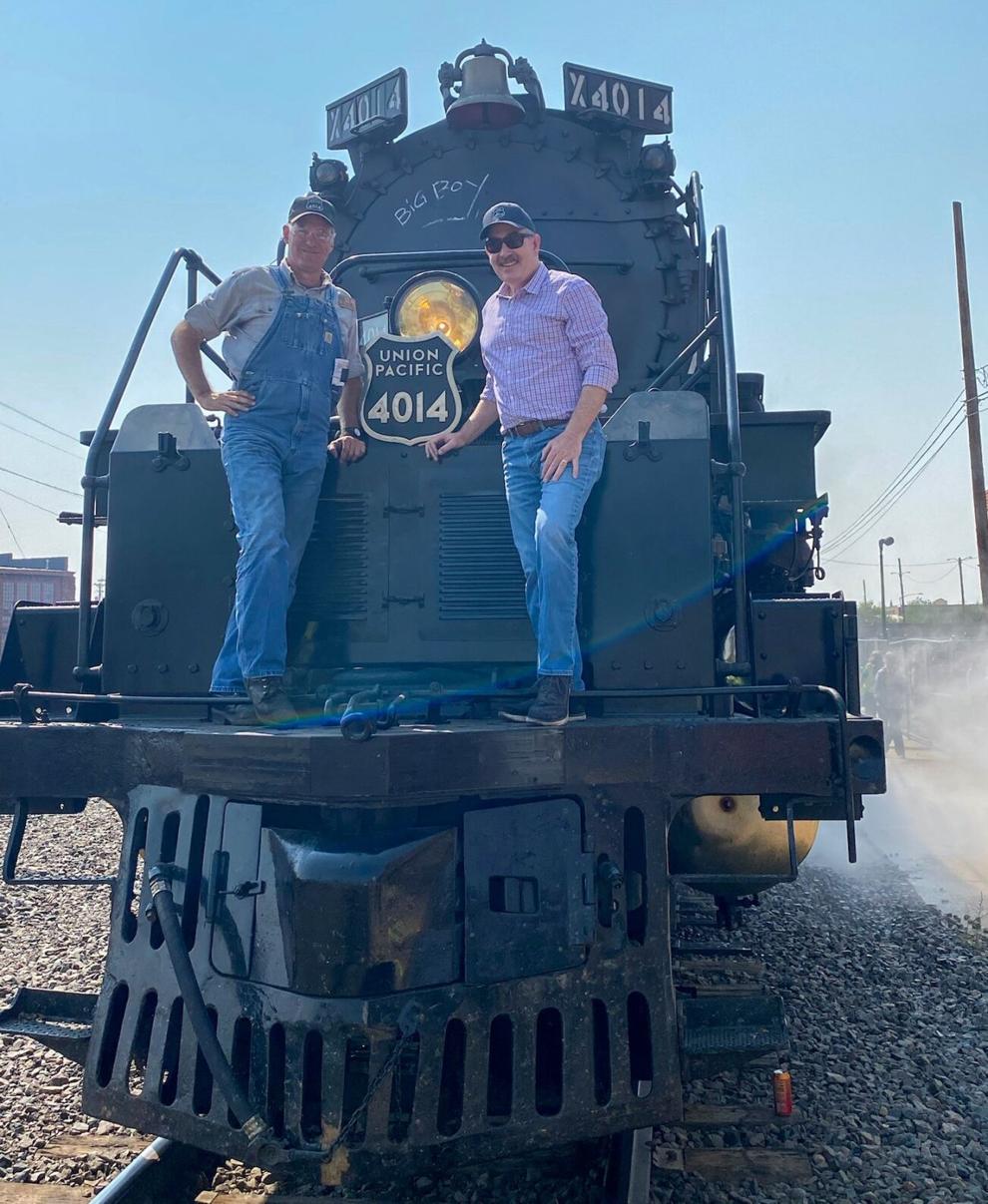 UP#4014 is back in the barn in Cheyenne
With Cheyenne Mayor Collins and Ed Dickens in the cab, Big Boy No. 4014 triumphantly rolled back into Cheyenne this week, right on schedule after a five-week tour across America.
"It was real joy and honor to be on board Big Boy for it's final leg of the tour and return to Cheyenne," Mayor Collins said. "The complexity and coordination that goes into operating that steam engine is truly impressive. That's a hard-working professional crew," he said. The Mayor boarded the historic Union Pacific steam engine at Greeley, Co, and rode in the cab with Ed Dickens for the final leg home.
"Cheyenne is blessed to have some amazing pieces of American history with the Union Pacific Steam Fleet based here," Collins added.  "It was a blast to ride this American treasure from Greeley to Cheyenne.  Watching the engineer and fireman working together to make Big Boy go was fun to watch.  It was like watching a dance, moving the right levers and twisting the right knobs.  Some of the best moments was watching the kids and class rooms jumping for joy when Ed pulled the chain and set off the whistle.  My thanks to Nathan and Liisa from UP for making this dream ride possible, and the engineer ED, fireman Austin, and conductor Ted for showing me how Big Boy works."
The crew will now take a much-needed break after the 3,800 mile journey, and then service the giant locomotive, which has returned to the steam shop. The crew will then return to their normal duties with the railroad.
The Big Boy made stops in Fort Worth, Houston, New Orleans, St. Louis, and Denver with brief whistle-stops in more than 90 other communities. The world's largest steam locomotive, Big Boy No. 4014, is the last remaining 25 built in the 1940s.
The Big Boy drew lots of attention as it visited cities in 10 states, and fans lined the tracks everywhere to shoot videos to post across social media.
According to the Union Pacific website, The Big Boy was built to traverse the Wasatch Mountain range east of Ogden, Utah, and was retired in 1961 after traveling over 1 million miles.
The Union Pacific Railroad brought the Big Boy home in 2013 and restored it to its former glory and made it the "biggest restoration project ever undertaken in the history of U.S. railroad preservation," according to the Union Pacific.
The Big Boy sat out 2020 due to Covid-19, but it's back and looking good on its first tour since its 2019 debut, after being restored for its 150th anniversary. Thanks to recent restoration efforts, No. 4014 is alive and well for many years to come.