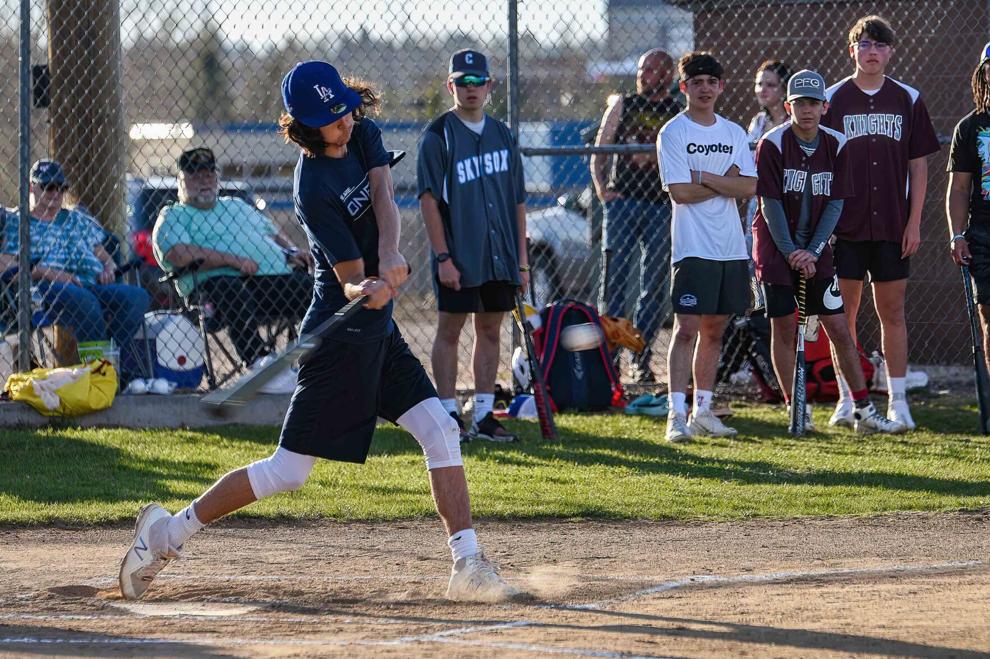 The Cheyenne Youth Baseball League (CYBL) welcomed spring in style, Friday, April 30, when it held opening ceremonies at Dutcher Baseball Complex to celebrate the 2021 season.
Players and team managers were introduced and honored by master-of-ceremonies Manager Donald Cobb, the Baby Cakes travel team manager, The Coyotes.
Cobb introduced guests of honor, Wyoming House District 41 Representative Bill Henderson, City of Cheyenne elected officials, Mayor Patrick Collins, and council members Jeff White and Brian Cook. The
honored guests threw out the first pitch.
The action started with a homerun derby, and everyone was encouraged to enter for $10 and get 10 balls thrown by a pitching machine. Kids not participating in the derby enjoyed Wiffleball fun.
The concession stand, better known as the Snack Shack, served up plenty of food to hungry fans.
Stacie Linger, CYBL board president, said, "we want to keep some diversity so the families, instead of coming for a pretzel, come and have a meal, a sandwich with some chips or something more than just baseball food. You can come and have a real family meal."
Kids must be at the fields one hour before the games start, and most parents are still at work. If the kids are playing in both games, they get 30 minutes to eat.
The league is planning food-themed nights, like Meatball Mondays, Taco Tuesdays, and Chick-fil-A Thursdays. They are looking for a local restaurant host on Thursdays.
"The city allowed the CYBL to retain the responsibility of the concessions due to the conditions at Dutcher complex fields, allowing the league to offset the costs of everything else in the league's system," Linger said. "Umpires cost $50-$60 a game along with field reps, uniforms, and more."
An all-volunteer crew runs the stand and, the board of directors oversees operations.
Wyatt Miller plays on the newly established Dragons minor league team and has played baseball since age five.
 "Playing baseball gives me the opportunity to get in shape and learn new skills," he said. "My dad tells me to be a team captain and show teamwork. I always thought that was stupid, but it teaches you a lot. When you are at work, you must be a teammate and work together. It also teaches great hand-eye coordination. My favorite part of playing baseball is being in the dugout. Everyone has gum and seeds, and everyone shares. My dad lets us scream at our teammates and other teams."
Matt Miller, Wyatt's Dad, manager, and coach of the Dragons, said baseball is a great sport.
"It is all about the failures," he said. "It taught me a lot as a kid. I hope that I can convey it to these guys, now that they are young men, working together overcoming those personal failures as a team. Occasionally, you catch a glimpse, or they do something you would not expect from them, something that looks like a major league baseball player that has been there for 20 years. You get to catch a glimpse of that.
The CYBL would love to have the Cheyenne community come out, watch a ball game and enjoy some of the great food in the Snack Shack, all while cheering on the kids.
"They can really use the support from people other than their families," Linger said. "They are also open for donations and appreciate anyone that would like to come and be a part of the organization."
The CYBL is the longest-running baseball league in Cheyenne and runs like a professional baseball league. They have eight minor and six major league teams with players ages 13-18.
Games are played Monday through Thursday nights for approximately 10 weeks. The season ends the weekend before Cheyenne Frontier Days. They host three tournaments. The Spring Classic, May 1-2.
Games start at 5:30 and 8 p.m., Monday through Thursday, at Dutcher Baseball Complex, 4212 Converse Avenue. For more information on schedules, rosters, and volunteering, visit, CheyenneYBL.sportngin.com.