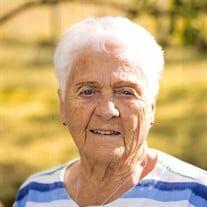 Barbara Jane Hough passed away at the age of 96 on June 7, surrounded by her family.
She was born in Cheyenne on November 4, 1924 and made this her home for her entire life. Barbara married Bud Hough, June 11, 1944.
Barbara is preceded in death by her husband, Bud Hough; son Jack Hough; daughter Carrie Anne Woodhouse and her son-in-law Roger Woodhouse.
She is survived by her sons Danny (Kay) Hough and Davey (Robbin Oberheu) Hough and her daughter-in-law Carol Hough. Her six grandchildren Travis (Sarah Maki); Michael (Laura Weldon) Carlson; Ashley Woodhouse; Bud (Candice) Hough; Bill (Leah) Hough; Mindy (Billy) Inman. And her twelve great-grandchildren Kai, Nikko, Jack, Nick, Evan, Blake, Jonas, Bode, Jackson, Brice, Cooper, and Elliott.
A celebration of life will be held from 1-4 p.m., Saturday, June 12, at Uncle Charlie's, in the upstairs meeting room. www.wrcfuneral.com.