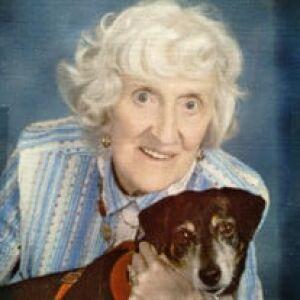 September 19, 2022, Thyra Elvira (Nyberg) Pinther went to be with Jesus, her Savior and Lord.
Elvira was born in the French Concession of Shanghai, China on January 3, 1926, to Maria Batournia, White Russian refugee, and Carl Emil Ragnar Nyberg, Swedish sea captain. At 18 months of age, the family traveled via the Trans-Siberian Railroad to the safety of Sweden, home for Carl, now for Maria and Elvira also. During the years in Stockholm, brothers Robert and Johnny were born. At age 10, her family moved to Gibraltar for 3 years; from there evacuated to Kingston, Jamaica due to WWII.  Living in an Evacuee Camp, Elvira, 14, studied nursing. Next, the family moved to Barranquilla, Columbia where Elvira worked at The Baptist Mission Hospital. Later she worked in Bogotá for Shell Oil.  During this time missionary Darlene Elliot introduced Elvira to Jesus.  With her mother, brothers and their wives, Elvira immigrated to the USA in 1958.
In San Francisco, Elvira married Salvador Jimenez. Isabel Kim is their daughter.
After marrying Robert Pinther in 1971, they lived in Cheyenne and traveled Wyoming together as he worked. After retirement, they traveled overseas. She was a loving wife, ministering to Bob through an extended illness prior to his death.
Elvira traveled with the Partners of America program and Friendship Force and 4 mission trips.  Elvira, a talented linguist, friend of many both here and abroad, a kind, thoughtful person to the end.
She was preceded in death by her parents; brother and sister-in-law Robert and Olga; brother John Nyberg; husband Bob. Survived by daughter Kim Jimenez; grandson Joshua Velazquez; stepchildren Ron Pinther, Steve Pinther, Cynthia Vasek; sister-in-law Gloria Nyberg, niece, and nephews: Pilar Sinelnikoff, John Ragnar Nyberg, Peter Nyberg, Erik Nyberg. Several Swedish cousins, in particular Roland and Eva Berndt and family.