Glennis Fern (Strube) Harrison, 84, a lifelong resident of Pine Bluffs, Wyoming, went to her heavenly home on July 11,2019, at Davis Hospice Center in Cheyenne, Wyoming.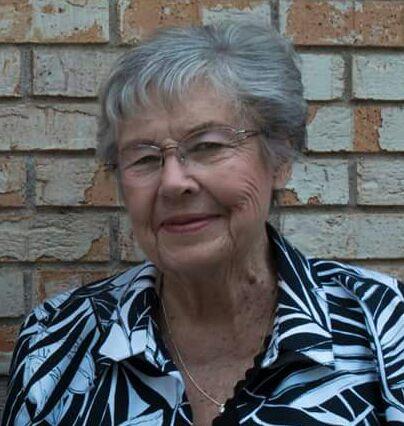 Glennis was born October 30, 1934 in Kimball, Nebraska to Charles and Leila Strube. Glennis grew up on a farm south of Pine Bluffs and attended school through the second grade in a one- room school house. She completed her education in the Pine Bluffs schools and graduated from Pine Bluffs High School as Valedictorian in 1952. Glennis attended Laramie County Community College and was in the first graduating class with an associate degree. Later in 1976, she completed her BA degree in Elementary Education from the University of Wyoming. She was a substitute teacher in Laramie County School District No. 2 for many years.
On August 16, 1953 she married her high school sweetheart, John C. "Jack" Harrison at the Pine Bluffs United Methodist Church. Last year they celebrated their 65th anniversary. Together, she and Jack owned and operated Cable Television Systems in Wheatland, Torrington, Lingle, Guernsey, Fort Laramie, Hartville and Pine Bluffs. Pine Bluffs Cable TV System was the first and they operated it for nearly 50 years. She was a former honor recipient as Pine Bluffs Woman of the Year Award.
Glennis was a life- long member of the Pine Bluffs United Methodist Church serving as Trustee Chairperson, President and a member of the WSCS Evening Circle. She was a Sunday School and Bible School Teacher and Children's Choir and Youth Director. She was also Director and a teacher of the Bluebirds of the Campfire Organization. Later in life, Glennis enjoyed being a youth mentor and cooking for her grandchildren. She also had a talent for painting with water color and has left many "masterpieces" behind to be enjoyed by her family and friends.
Glennis is survived by her husband, John "Jack" Carlstrum Harrison, three daughters; Marjorie (Tony Crecelius), Debra (Merlyn Coffin), and Lisa (Jim Gardner) all of Cheyenne, Wyoming. Eight grandchildren; Brett Reher (Joe), Tyson Reher(Amanda), Christina Patterson( Sean), Briana Fuller (Paul), Jennifer Gorman( Stephen), Mathew Gardner(Samantha), Christopher Gorman (Maggie), Stephanie Gorman and two step grandchildren Dave Gorman, Jr. ( Kelly) and Angie Gorman. Ten great-grandchildren; Tatum and Grady Reher, Emma and Luke Patterson, Asher, Micah and Brycen Fuller, Braxton, Myles, and Annika Nelson. She is also survived by one sister, Phyllis Minnick and a host of loving nieces, nephews, relatives and friends.
Her parents Charles and Leila Strube, brother Charles Strube, Jr and son-in-law David F. Gorman preceded her in death.
A celebration of Glennis's life was on Sunday, July 14, 2019, 2:30 p.m. at the Pine Bluffs United Methodist Church officiated by Pastor Lesley Matschke and Pastor Gale Graves. Interment followed at the Pine Bluffs Cemetery. Arrangements were by Schrader Aragon and Jacoby Funeral Home and condolences may be offered at www.schradercares.com.
Those who wish, may contribute to the Pine Bluffs United Methodist Church or the Davis Hospice Center.