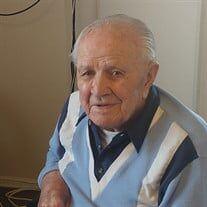 John J. Kovalcik, 91, of Cheyenne, passed away at Aspen Wind Assisted Living Facility on June 7.
He was born December 27, 1929, in Czechoslovakia, to Jacob and Mary Kovalcik.
John was preceded in death by his wife of 61 years, Frances, his parents Jacob and Mary Kovalcik, sisters Sophie Carnagursky and Margaret Murphy, and stepdaughter Susie Streib.
John is survived by his children Johnny Kovalcik (Sheryl) of Baton Rouge, LA; Pam Hamilton (Dave) of Cheyenne, his brother Frank Kovalcik (Carol) of Boonton, NJ; two grandchildren and three great-grandchildren.
Memorial services will be at 10 a.m., Wednesday, June 16, at Wiedersphans Funeral Home. www.wrcfuneral.com.