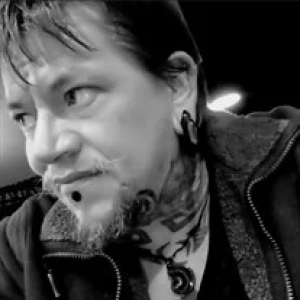 Patrick "Chris" Daugherty, 44, of Cheyenne, passed at Cheyenne Regional Medical Center surrounded by his loving family.
He was born on December 14, 1978, in Los Angeles, CA to Robert "Mohawk Mike" Daugherty and Debra Daugherty.
Chris was a talented and well-loved tattoo artist in the Cheyenne community working alongside his daughter, Sage. He was always striving to get better in every way. Aside from his tattoo work, he also enjoyed making hot sauces with his wife and had a dream of helping students learn the importance of art by letting them draw their own masterpieces in which he planned to put on T-shirts.
He married his love, Colette, in the fall of 2022 and spent all the time he wasn't working with Colette and also with his daughter, Bella. Chris was an inspiration to many, and through his art and creativity, he connected with people. Even with his wonderfully amazing mind, expressing himself through words wasn't really a strong trait. Good thing his art was fantastic!
He is survived by his loving wife, Colette; parents, Mike and Debra; step-mom, Cindy Daugherty; children, Sage Daugherty, Sebastyn Daugherty, and Isabella Capner; brothers, Robert "Mikey" and Daniel Daugherty; sister, Deirdre Daugherty; uncle, Bill Daugherty and grandmother Margaret Daugherty.
Chris was preceded in death by his brother, Shannon Daugherty.
There will be a viewing at Wiederspahn-Radomsky Chapel on February 2, 2023 from 10am to 4pm and his service will be held on February 3, 2023 at 5pm, also at Wiederspahn-Radomsky Chapel.