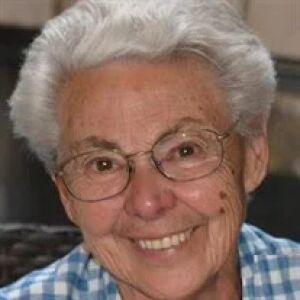 Sonia F. Tucker, 89, of Cheyenne died 8 January 2022.
Sonia was born 8 June 1932. Sonia first moved to Cheyenne in May of 2001, after a lifetime of military moves, Cheyenne is where she considered her home.
She was hired the day she arrived, to work at "The Property Exchange" in the rentals department. Later went to work at Substance Abuse, part of the WY Dept of Health. She then went to work with the Dept of Agriculture and finished her career with the Livestock board.
Cheyenne gave her so many opportunities and fond memories. She got to watch the evening the 2002 Olympic torch came through town and the 2018 Lunar Eclipse. She loved Frontier Days, that her home was on the Parade route and every year she would sit and wait on the morning the cattle would be driven in from the railhead. She was amazed when she ended up on the front page of the paper when she worked the Obama campaign and tried to volunteer often for other civic events. She loved the BNSF Christmas Train, The Thunderbirds, The Clydesdales, and Fourth of July fireworks. She loved that Cheyenne had so many green spaces for walking her beloved Zoey. She truly believed that all things happen for a reason and tried to live by the idea "Be kind to strangers, for in doing so, some have entertained Angels unaware."
Sonia is preceded in death by her husband, Les Tucker.
Sonia is survived by her children, Keith and Gail Tucker, Tayna Tucker, Terri and Phil Delaune and Sarita Tucker; grandchildren, Sophia and Lynn Johnson, Tevia Daly, Amber and Trevor Larson; and great grandchildren, Rex and Brooke Johnson, Gracie, Ella and Luke Maser, Avilynn, Mirari and Xhaiden Larson, as well as many dear friends.
In lieu of flowers please consider donating to Black Dog Animal Rescue. There will be no services. www.wrcfuneral.com